OMH Billing Call Follow Up
March 12, 2023
Below please find links to various documents referenced during a recent OMH Billing call.  There are 5 documents attached and several documents linked below.
It is our understanding that OMH and OASAS will be coming out with permanent tele health regulations very shortly.
NYS Council members should know that during a recent call between association execs and OMH, I advocated vigorously for the Offices to issue specific information and the disposition of any remaining COVID flexibilities that may/may not end on 5/11/23 (end of the Public Health Emergency).  I also reminded the Office that agencies need time (I said two months) to update their technology based on any COVID flexibilities that will not be continued in permanent regs.  I was assured the Offices will issue updated guidance shortly.
————————————
ATTACHMENTS:
LMHC/LMFT Scope of Initiative, taken from slides sent from DOH to MCOs 2.8.23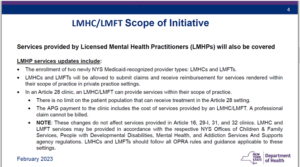 Additional Resources:
OMH-Licensed Article 31 Mental Health Clinics Claims Submission Regarding Attending and Referring Providers 07.24.2020
New York State Medicaid Update – January 2023 Volume 39 – Number 2: Coverage of Licensed Mental Health Counselor and Licensed Marriage and Family Therapist Services Provided in Article 28 Outpatient Hospital Clinics and Free-Standing Diagnostic and Treatment Centers